The 2017 25000spins London to Paris
This is an amazing 5 day charity challenge starting from the UK's capital, through the English countryside over to rural France and on to the heart of Paris, finishing under the Eiffel Tower!
From London across the rolling South coast through some of England's most idyllic countryside then crossing over to France. Witness the beauty of the French rural landscape as you pass areas of historical interest all the way to Paris.
Who should go on this ride?
The London to Paris cycle is a fantastic bike ride from the heart of London to the Eiffel Tower in Paris. You'll be joined by like minded individuals cycling for all the same reasons as you; to raise funds for people in need, travel and make a new friends.
How many can go on the ride?
The ride is limited to 20 riders in 2017. The London to Paris ride is an exclusive ride to support Watoto Australia, Watoto UK, ADRA, The Fred Hollows Foundation and Compassion. This ride is like no other multi day ride. To learn more about the ride goto.
Early Bird: $320 AUD (150 pounds) pp
Bizzy Bee: $370 AUD (170 pounds) pp
Late Mates: $430 AUD (200 pounds) pp
I am a slow or medium rider. Do you cater to me?
We certainly do. You will be joined by the tour leader guiding you through the countryside.
I am a fast rider. Do you cater to me?
Absolutely. We pride ourselves in providing a challenging course for all rider levels. For faster riders we have a longer more challenging route for you.
What is the Fundraising Goal in 2017?
In 2017 we are aiming to raise $60,000 (30,000 pounds). Be part of the adventure making a difference to people less fortunate. Places are strictly limited.
WHICH CHARITIES CAN I SUPPORT?
DATES
19 - 23 July 2017
5 Days Trip Duration
REGISTRATION FEE: $320 (150 Pounds)
WHAT IS INCLUDED?
3 Star hotel Accommodation (4 nights)

Food (Breakfast (Thu & Fri, Sat), Snacks (Wed,Thu, Fri & Sat), Lunch (Wed, Thu, Fri & Sat))

Support Vehicle

Ferry Crossing

Trip Photos

Team cycle jersey worth $120

Plus an amazing experience to help other people
FUNDRAISING TARGET
$3,500 (Min. to Raise $2,450 (1,350 pounds)) (All donations tax deductible)
ACCOMMODATION
3 Star Motel (Twin share accommodation)
TRIP DURATION
5 Days
To learn more go to :25000 Spins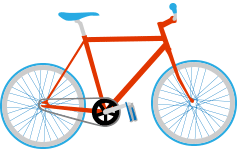 Raised So Far
$11,298.89
Help us raise vital funds